Pinterest has a unique and significant number of followers. Everything from beautiful furniture tips to business deals is presented with a visual flair. The platform currently has over 433 million users worldwide. A creative and interactive tool, Pinterest has garnered a huge audience across all categories and has proven to be a powerful platform to help you build your business. Building a user community for your business is easy.
Here are simple and effective ways to grow your business with Pinterest:
1.Create an effective Pinterest marketing strategy
The real reason companies use social media platforms is to achieve measurable goals through marketing, but to do that they need an effective marketing plan. The first step in integrating Pinterest into your brand's marketing strategy is understanding that Pinterest, like any other platform, can be used wisely to effectively drive sales.
Before crafting your brand's Pinterest marketing strategy, consider the following:
What are your business/marketing goals?
How can Pinterest help you reach these goals?
Do you have enough resources to reach these goals on Pinterest?
Once you have found the answers to the above questions, you are in the best position to decide which Pinterest marketing strategy is right for your business. Here are some tips.
Identify user demographics and preferences. Plan your pins accordingly.
Keep it visible. Make users aware of your brand. Consistency is key. Focus on creating a community and incorporate user preferences into the content you create.
Link pins across platforms and maximize the benefits of pin linking. This allows you to increase your traffic.
Connections are made by interacting with other accounts and users. Let's keep in touch!
2.Content that makes the user think "Oh!"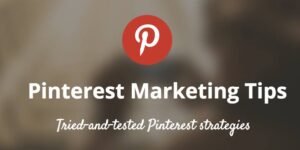 It goes without saying that Pinterest is a visually rich platform and the content posted should encourage users to click pins without hesitation. The competition to pin visually stunning Pins and attract users is fierce, but to start creating such Pins, all you have to do is follow a few basic steps. Here are some helpful business planning tips for creating impressive listings on Pinterest.
Decide on a color palette and make sure it fits your company's brand.
Always aim for high quality images and graphics. Charming things have magical effects.
If you have a diverse audience, find the right content for each type of audience and publish accordingly.
Use your logo on every pin, but don't make it too big or flashy. Keep it subtle
Do not add clickbait or misleading content when providing links. Reliability is key.
Maintain a balance between what you want your audience to know about your brand and the content they want to consume. Too much advertising content can be boring.
Use your own template to showcase different content.
3.Advantages of Attractive Boards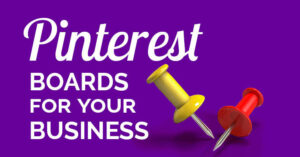 A feed is to Instagram what a board is to Pinterest. A board is the face of your Pinterest business profile. As such, they should be engaging, expressive, and meaningful.
Here's how to start building your board:
The basic purpose of creating different boards is to categorize content. Be careful to separate the pins properly. Do not mix Pins or create confusing categories.
Two things that affect the quality of your board are your name and your cover photo. Make sure both represent the category correctly.
For better optimization, you can add keywords when naming your board.
Maintain a consistent color palette across all your Pinterest board covers.
Here are some additional points to keep in mind while maintaining your board:
Deleting a board also deletes followers following that particular board. You can archive it instead.
To make your board look authentic and rich in content, add at least 4 Pins before publishing your board.
Don't narrow the categories too much as it can lead to confusion. For example, if we're talking about social media marketing, we might have categories like Instagram and Facebook, but not additional separate boards for Instagram Reels or Facebook Live.
Try to avoid misleading boards and pin duplication.
4.The power of SEO on Pinterest
If you want to see what role he plays in SEO on a visually appealing platform, here's the breakdown. Simply put, when you search for anything on Pinterest, you get a list of results that appear exactly as you type. These results match the searched word/keyword. This is done via a "guided search" that acts as Pinterest's search engine.
Here are the simplest SEO strategies you can use to optimize your Pinterest profile:
Open a business account and do not convert your existing personal account to a business profile.
Add a professional touch to your business profile on Pinterest.
Add a suitable profile picture and company name. Optimize names with keywords.
A well-structured profile description is the easiest way to optimize your business account. Do keyword research and write a biography.
Add your website or blog and make sure the link is active.
Linking all your social media accounts increases your credibility.
Once you've set up the right business profile, you can move on to creating boards and pins.
When creating your pin, write a compelling title and description that includes your keywords.
Many brands don't use hashtags on Pinterest. It can work well if you know how to use it. However, hashtags are displayed based on their publication date, so they're great for new posts.
Summing Up
Indeed, Pinterest is a powerful platform to use to promote your business. Try these steps and let us know how it worked for you. If you're looking for Pinterest management tools, check out SEOgrey, a strategic platform that adapts to new trends and technologies. Leave your thoughts and questions in the comments so our experts can help.