Many digital marketing tactics and tools can help your online store, but setting up a Google Ads account is one of the best ways to stand out from the competition and build your brand. Is there a better strategy than online advertising for your online store to attract new digital customers? With so many people using Google to search, Google Ads is a great tool for your online store. Here are the basic Google Ads strategies your online store should follow when you have a product to sell and want to reach a wider audience and drive sales faster.
What are Google Ads??
Google Ads allows businesses to advertise across a variety of networks including search, shopping, display and video. As a result, you'll see ads on YouTube videos, pop-up ads, Google Shopping search results, and more.
Google Ads helps you find the best potential customers for your online store. They are actively examining your items. Depending on the type of campaign you choose, if you bid on keywords and phrases (search terms) that will result in your ads appearing at the top, bottom, or side of search results pages, YouTube videos, or other sites on the web there is.
Your keyword choice, ad text, headline, and landing URL must all be correct to win a bid.
How can your online shop benefit from Google Ads?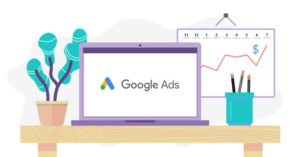 Whether you want your website to appear in search results or improve your remarketing strategy, Google Ads can help your online store grow.
Google Ads can make mistakes, but there are some tactics you can use to avoid common mistakes and grow your online store. So let's take a look at the top Google Ads strategies for online retailers with profitable platforms.
Choose the Google campaign goal that best fits your goal.
As a first action, select a campaign goal to track. Campaign goals are sales, leads, traffic, product and brand intent to purchase, awareness and reach, and app promotion.
Below are descriptions of the best campaign objectives for your online store.
Sales: These campaigns, including search, display, shopping and video campaigns, drive in-person, online or phone purchases.
Web traffic: Select this goal if you want targeted customers for your online store.
Lead: These campaigns get potential customers to take action, leading to leads and conversions.
Brand awareness and reach: As the name suggests, this campaign aims to leverage display and video campaigns to increase brand awareness and reach a wider audience.
Product and brand considerations: The campaign combines search, display, shopping and video campaign types and aims to educate consumers on product details.
Once you've decided on your goals, name your campaign and decide what type of campaign you want to run. Start and end dates, campaign URL options, or dynamic search ad options are other general settings you can enter.
2. Develop a solid title
In advertising, we want to reassure buyers that we are offering exactly what they are looking for. If there is ambiguity, it is quite possible that the customer will click on a different, more specific ad.
Titles should be short, concise, and relevant to both your product and search. Use keyword research and analysis to make your title pop off the page so buyers instantly know you have what they want.
3.Define audiences for your Google campaigns.
This is a common misconception, but it also applies to brick-and-mortar stores. You can customize your message and products by creating highly targeted campaigns that target specific demographics based on location.
First, select your language and location targeting options. Click Location Options to view your selections. Then continue to identify and refine your target audience. These are clusters of potential customers with similar intent, interests, and demographics identified by Google in your location.
4. Optimize your Google Ads campaigns
Using Google Campaign Optimization can mean the difference between selling and overspending. Therefore, it is very essential for your business. It looks difficult and requires special attention, but it is necessary and has great benefits. Here are some optimization tips to get you started.
Check your weekly search terms report for new potential keywords and those that aren't performing enough to waste more money.
You should test and improve your display URL. Try different keywords in your display URL and her CTA. Set up Google Ads alerts to optimize your budget and avoid large discrepancies.
Use his Google ad management software and tools like Traffic Booster, tools to do keyword research, Google Analytics.
5.Use split testing before running A/B tests.
The way an optimization specialist tests her Google Ads for optimal performance is the first difference from a novice. Split testing is the technique of pitting two radically different versions of an ad against each other. In contrast, A/B testing allows you to compare similar variations (e.g. testing between two of his headlines for one search ad).
If you have two Google videos, split testing means he creates two campaigns using two different videos and compares them. Alternatively, you can test two specific ad landing pages by generating ads with two separate final destination URLs. The winning campaign can use A/B testing to identify the most effective headlines and her CTAs.
6. Track your sales in detail with Google Analytics.
It's important to regularly review your Google Ads account stats for strategies to improve the effectiveness of your ads. Without analyzing your sales, conversions and clicks, you can't know if your ads are effective or if you're just wasting your money.
You can use Google Analytics to track your Google Ads account. Conversions, average time users spend on her website, number of new visitors, and the keywords that triggered those clicks and conversions can all be tracked in one place through this platform. Once you have your campaign data, use Google Analytics to update and improve your keyword list.
Google Analytics calculates accurate data so you can determine what you need to change or fix to improve your ads
7. Create the perfect landing page for your product.
When the user clicks on your ad, they should be able to return to their original search and complete the transaction.
We want users to stay interested when they click on our ads, especially when something comes up interesting. Make your landing page look professional and help users quickly add products to their cart at the advertised price.
Studies show that only 34% of clicks on Shopping ads result in a transaction. Streamlining the buying process and matching your landing page to what you advertise can increase your chances of success.
8. Use an e-commerce competitive research strategy.
You should also create search campaigns that target your key competitors. This may require your brand to be recognized, but it can help attract new customers who are buying the types of products you sell.
These ads have minimal relevance and if a competitor is currently bidding on your brand name, his CPC for that campaign will be higher. For this reason, this strategy is only recommended for established retailers who are looking for new customers and running effective campaigns.
9. Use Google Retargeting and Remarketing.
Last but not least, a well-thought-out approach to remarketing advertising campaigns is essential to a successful Google Ads marketing plan for ecommerce. Targeting remarketing lists requires creating multiple ads with different types of ad campaigns. Search ad remarketing lists and display remarketing lists are recommended for all online merchants looking to increase their website traffic.
10. Select the appropriate timing.
Research shows that adapting your offer during peak times can significantly improve click-through rates. Learn about consumer behaviour and when individuals are most likely to shop online. If you're looking to sell on Google Shopping, it's important to understand how to maximize the effectiveness of your online advertising and get online shoppers to click and buy your products.
Focus on creating ads that appeal to consumers searching for products in your inventory. Make sure you have a landing page that upsells those products and completes the purchase.
Conclusion – You can use any or all of these methods to open a Google Ads account or improve an existing one. It's easy to make common mistakes in Google Ads, but with the right tools, or with the help of a Google AdWords agency, you can avoid them. Research and regular ad monitoring are the two most important things to remember. A good Google Ads account will have campaigns and keyword lists that are continuously tracked and updated for improvement, based on extensive research. Google Ads can help your online store grow and be more profitable.
If you still have cold feet, let our SEOGREY marketing experts take care of everything. Expand your business to the top level with SEOgrey marketing techniques.